SilverSingles Dating Site Review: Is It Legit?

Monthly visits
1.5M
Price
1-month plan ($59.95)
3-month plan ($39.95/mo)
6-month plan ($29.95/mo)
Male to female ratio
41% female, 59% male
Good for
Serious relationships, potential marriage, finding new friends
Mobile app
Yes
Site

silversingles.com
SilverSingles is one of the niche online dating sites focusing on a specific target audience instead of trying to gain as many members as possible. It connects mature women and men in their 50s, but what else besides the concept itself does it have to offer? Find the answers in our SilverSingles review.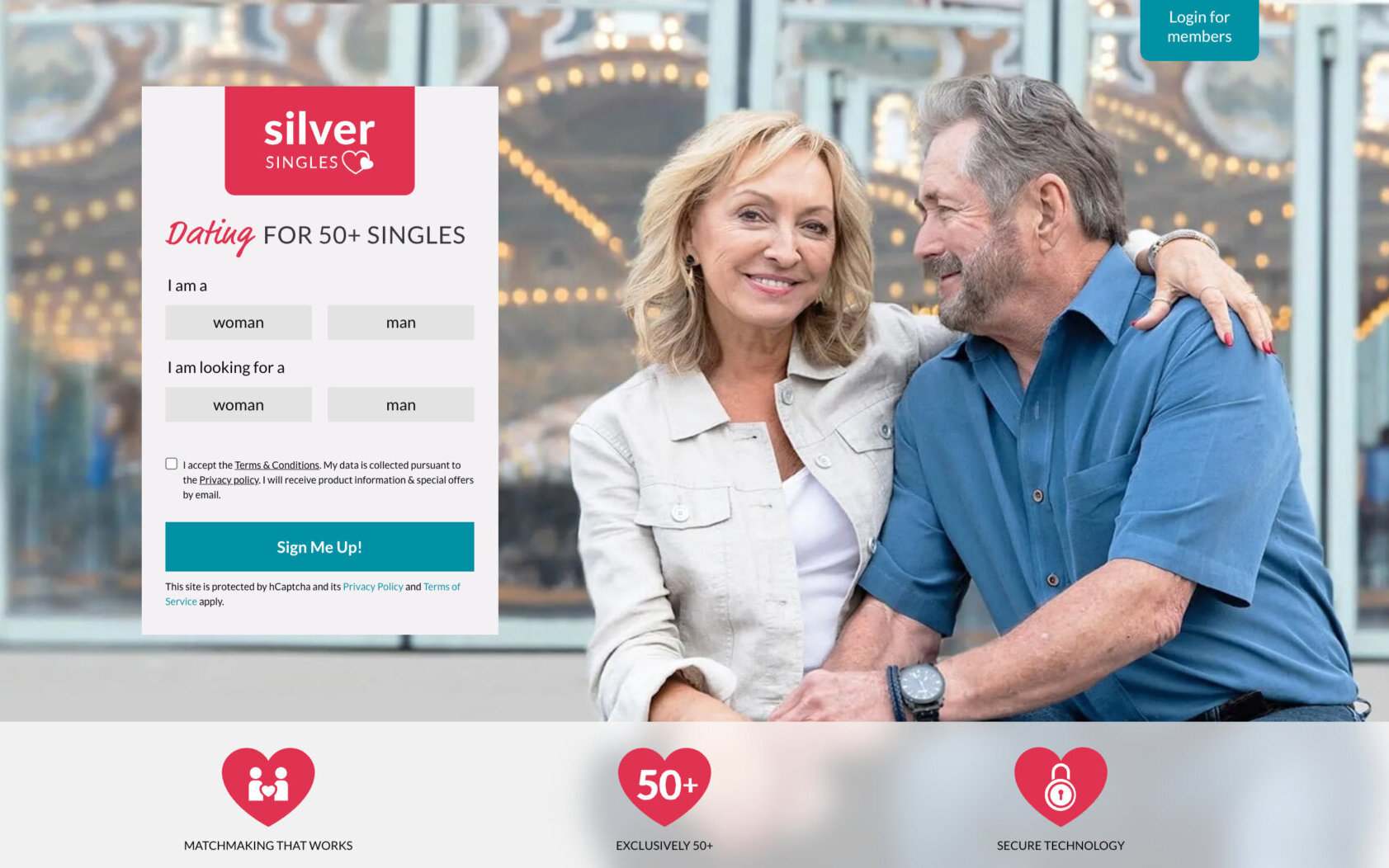 What is SilverSingles?
SilverSingles is an online dating platform specifically designed for men and women aged 50 and older. This service was launched by Spark Networks in 2002 as PrimeSingles and has since become a popular choice for mature singles looking for serious relationships.
The platform uses a matchmaking system based on a comprehensive personality test, which measures openness, conscientiousness, extraversion, agreeableness, and neuroticism. This test is designed to help the platform understand users' personality traits, preferences, and lifestyles, enabling it to provide highly compatible match suggestions.
In addition to the personality test and daily match suggestions, SilverSingles offers features such as profile viewing, sending smiles, adding users to favorites, and messaging for premium members. It provides a safe and convenient environment for mature singles to connect, communicate, and potentially find love.
Overall SilverSingles.com rating
SilverSingles: Pros and cons 
Pros
Great personality test, advanced matchmaking services

Focus on a specific target audience that narrows

down

the search for users

Fixed prices for premium membership plans

Mobile app available both to Android and iOS users

Members can see the compatibility scores
Cons
No free unlimited messaging

No video chat or other alternative communication features

There are some inactive profiles
SilverSingles dating site can be a perfect choice for the 50+ age group providing all the features for convenient online dating.
SilverSingles in 30 seconds
It's a great site specifically designed for singles aged 50 and over.
Launched in 2002, the platform has built a large user base.
This dating website uses an intelligent matchmaking system based on personality tests to find compatible matches.
The platform caters to various dating preferences, including friendship, online romance, and serious dating.
Memberships come in both free and paid versions, with more features available to users with a premium membership.
User profiles are detailed, which allows SilverSingles members to understand their potential matches better.
The website promotes safety and security with its stringent verification process.
Silver Singles is available in more than 20 countries worldwide.
SilverSingles also has a mobile dating app for iOS and Android devices, which makes it accessible on the go.
Who is the SilverSingles website for and not for?
SilverSingles will work for:
Singles aged 50 and over looking for relationships

Individuals who prefer personality-based matching

People who value safety and stringent verification

Those comfortable with both website and mobile app
SilverSingles will hardly work for:
Younger audiences seeking relationships

Those who prefer browsing freely through profiles

Users looking for a quick, casual dating experience

Individuals seeking a free or extremely low-cost dating service
Pricing and available features
SilverSingles is a robust player on the online dating scene. But is the SilverSingles dating site free? No, you should buy a premium membership to get more mature dating features.
Here are the current average prices:
$ 59.95
1-month subscription
$ 39.95
3-month subscription
$ 29.95
6-month subscription
Free services
The basic membership allows users to do the following:
Sign up and create a profile without any charges

Pass a comprehensive personality test that forms the basis of its matchmaking algorithm

View limited profiles of other members

Send Smiles to express interest in another member

Get a list of daily matches based on personality test results and preference settings

Access to the SilverSingles app
Paid services
The paid membership offers the following SilverSingles features:
Send and receive unlimited messages

View all photos uploaded by other members

See Profile Visitors to learn who has viewed your profile

Get notifications when others read your messages

Review a more detailed analysis of your personality test results

Get additional matches from the SilverSingles team

Use the SilverSingles mobile app for both iOS and Android devices
Who are the members?
| | |
| --- | --- |
| 👥 Visits | 1.5M |
| 🇺🇸 Most visited by | USA, Canada, France |
| ⌛ Average age of female and male users  | 55-64 |
| 🌐 Members activity | North America, Europe |
How does SilverSingles work? Sign up
Users can create a SilverSingles account for free
Personality test
New users can fill out a comprehensive personality test during registration Perfect match
New members can share their interests and the traits their perfect match should have. Users get potential matches daily based on the personality test and profile data
Communication features
Users of the 50+ age range can show interest by sending smiles or message
Premium account
New members can upgrade to a premium account for unlimited communication
The purpose of the SilverSingles online dating site is to provide a secure, easy-to-use platform where older singles can find genuine connections and companionship. It understands that the needs of mature singles might be different from younger audiences. Hence, its services and features are designed with a focus on long-term compatibility and serious relationships rather than short-term dating or hookups.
The heart of the SilverSingles matchmaking process lies in the detailed personality test that all users take during registration. This test is based on the Five Factor Model theory of personality traits, measuring openness, conscientiousness, extraversion, agreeableness, and neuroticism. The answers to the test provide insight into a user's character, values, and preferences in a partner.
Then, the algorithm provides a list of daily matches using this personality data along with the user's personal search preferences (such as age, location, desire to have kids, etc.). The matches are highly compatible with the user's personality and preferences.
In conclusion, SilverSingles is a uniquely tailored platform catering to the dating needs of mature singles over 50. The website stands out with its focus on long-term compatibility and serious relationships, moving away from the model of short-term dating or casual hookups prevalent on many other platforms. It aims to help older people foster connections and find genuine companionship and meaningful relationships in their golden years.
Signing up at SilverSingles
Visit the SilverSingles website or download the app
Provide essential data like your gender, the gender you're looking for, and your email address
Set a password for your free account
Complete the personality test with questions about your lifestyle and sexual preferences
Provide more details about yourself and your preferences for a partner
Upload a profile picture
Confirm your registration through the email sent by the Silver Singles website
As with other dating sites, you first need to create an account on the platform. This can be done through their dating online website or their mobile app.
Upon clicking on "Sign Up," you'll need to provide basic information such as your gender and the gender you're interested in. You'll also be asked to provide an email address and to set a password for your account.
Once these details are set, new members will be guided to the personality test. This test is crucial during the sign-up process, as its results will be used for matchmaking. Based on the Five-Factor Model, the test asks different questions about your character traits, lifestyle, and what you want in your potential partner. This quiz can take some time, but you should answer each question honestly and thoughtfully to ensure accurate match suggestions.
After completing the test, you'll be prompted to create your online dating profile. This includes more specific information about yourself, your interests, hobbies, and preferences in a partner. You can also upload a profile picture at this stage. A complete and interesting profile can significantly increase your chances of attracting potential matches.
Finally, you'll receive a confirmation email from SilverSingles to verify your registration. Click on the link in the email to confirm your registration, and you'll be ready to start browsing potential matches.
Profile and pictures
Standing out on a dating platform like SilverSingles requires a thoughtful approach to your profile and pictures. Here are some tips to help you create an appealing presence:
Complete your profile: Fill in every section of your SilverSingles dating profile. A fully completed profile gives potential matches a better understanding of who you are and shows that you're serious about finding a partner. This includes completing all the fields about your hobbies, interests, lifestyle, and what you're looking for in a match.
Use high-quality photos: Ensure the photos you upload are clear and high-quality. Choose photos where you're visible and smiling (ideally). Your primary profile picture should be a close-up of your face, and additional pictures should show various settings that communicate your interests and lifestyle.
Be authentic: Be honest and authentic in how you describe yourself in your online dating profile. Misleading information might attract interest in the short term, but it's unlikely to lead to a meaningful connection. Highlight your unique qualities, experiences, and interests.
Update regularly: Keep your profile up-to-date. If you have new interests or life changes, update this in your profile. It reflects your current situation and keeps your profile fresh, possibly catching the eye of potential matches.
Remember, online dating is a process, and it might take time to find the right match. Patience, authenticity, and clear communication are critical when finding your perfect partner. And the combination of the elements described above contributes to a successful experience and the likelihood of finding a compatible match.
User interface and design
Clean and intuitive layout: SilverSingles has a neat, well-organized layout that makes it easy to navigate.
Simple design: The design is straightforward without unnecessary clutter.
Accessibility: All features are accessible through the main menu.
User-friendly: The online dating website and app are designed to be user-friendly, keeping in mind the target audience of singles over 50.
High contrast: The site uses high-contrast colors, making the text easy to read.
The usability and design of the SilverSingles dating platform have been generally well-received, especially considering its target audience of singles aged 50 and above. The user interface is designed with simplicity and clarity, which makes it accessible even for individuals who are not too tech-savvy.
The website and app have a clean and intuitive layout, so it's easy for users to find and use different features. You will not find excessive clutter in the design, which can often lead to confusion. All the features and functions are neatly organized and easily accessible from the main menu. This level of organization is convenient and helps users navigate the website easily.
Another positive aspect of the SilverSingles design is the use of high-contrast colors. It helps ensure the text is easy to read, which can be particularly beneficial for older users with visual impairments.
The profiles on SilverSingles are also detailed and laid out. This makes it easy for users to learn about potential matches at a glance. However, as the website requires a comprehensive personality test, setting up a profile can take some time.
This can be seen as a potential inconvenience for some users. Still, it's important to note that this process aids in providing more accurate matches, ultimately benefiting users that search for a suitable partner.
To conclude, the design and interface of this online dating service seem to be thoughtfully created to cater to the platform's target audience, prioritizing usability and clarity. However, you should check the most recent updates and Silversingles.com reviews for accurate and up-to-date information.
Making contact on SilverSingles
View daily match suggestions based on your personality test results and preferences
SilverSingles members can send smiles to other members to show interest
Premium members can send and receive unlimited messages
Profile visitors can be viewed if you have a premium membership
Users can add profiles to their favorites list
After you set up your profile and complete the personality test, SilverSingles will provide you with daily match suggestions. These are based on the results of your personality test and the preferences you set.
If you're interested in someone, you can send them a smile. This non-verbal way of showing interest can serve as a great icebreaker. This feature is available for both free and premium users.
For more detailed communication, there's the messaging feature. However, this is a premium feature, so only paying members can send and receive messages. This feature allows you to have more in-depth conversations with other users, making it easier to build connections.
Users with a premium membership can also see who has visited their profile. This feature can help them learn who's interested in their profiles and who might be a good match.
Lastly, you have the option to add profiles to your favorites list. This makes it easy to find profiles you're interested in, making it more convenient for you to contact them later.
It's important to note that the website focuses on quality rather than quantity. Therefore, you won't be overwhelmed with match suggestions. Instead, you will receive a few quality matches daily to manage your interactions easily.
SilverSingles's profiles: Customization and special features
Detailed personality test helps create a comprehensive profile about your character traits and preferences.
Users can provide information about their age, education, occupation, height, and marital status, among other things.
Preference settings are designed to describe the kind of partner you are seeking.
Users can upload photos to their profile.
New members can describe themselves in the "About Me" section.
People can list hobbies and interests on their profiles.
A SilverSingles profile provides a detailed overview of your personality and preferences to facilitate accurate matches. Here's what you can include in your profile:
ℹ️ Personality test results
Your comprehensive personality test results are incorporated into your profile. This gives other users an insight into your character traits.
👤 Personal information
You can customize your profile with personal details such as your age, education, occupation, height, religion, whether you have children or wish to have children, smoking habits, and marital status.
👍 Preferences
You can set and describe the priorities for the partner you search for. This could include their age, height, distance, religion, and whether they should have/want children.
📷 Photos
You can add images to your profile to give others a better idea of a perfect partner.
👤 "About Me" section
You can write about yourself in your own words in this section. This gives other users a better understanding of your personality and lifestyle.
⚽️ Interests
There's a section where you can list your hobbies and interests.
Here are five tips for updating your profile on Silver Singles:
Keep your profile updated: Ensure all information is up-to-date. If your situation or preferences change, update your profile to reflect these changes.
Be honest: Authenticity is key. Be honest about your personality, lifestyle, and what you prefer in a partner.
Use clear, recent photos: Use high-quality, recent photos that clearly show your face. A variety of pictures can help showcase your personality and interests.
Write a compelling "About Me" section: This section allows you to express yourself in your own words. Make it attractive and unique.
Highlight your interests: Don't forget to list your hobbies and interests. Shared interests can be a great conversation starter.
All these aspects are valuable to find a perfect partner in this dating app. They work together to help you stand out and make meaningful connections on SilverSingles. It's about showcasing yourself and representing your genuine self and aspirations for a future partner.
Besides, the more fascinating and precise facts you provide, the higher the chance to attract other Silver Singles users.
Safety and privacy measures
SSL encryption protects user data
The site employs strict profile verification processes to prevent fraudulent activities
Users can adjust their profile visibility and privacy settings
The site provides safe dating tips to help users' data securely
Users can report or block any suspicious or inappropriate activity
SilverSingles takes the safety and privacy of its users seriously and has several measures in place to ensure a secure dating environment. All data on SilverSingles is protected using SSL encryption. It means your personal and financial information is kept safe from unauthorized access.
To minimize the chances of fraudulent activities and ensure the authenticity of profiles, SilverSingles employs a strict verification process. This process checks the authenticity of the user's information during the registration process.
Users have control over their privacy settings. They can adjust who can see their profile and who can contact them. This provides users with a sense of control and security. SilverSingles provides its users with safe dating tips.
These tips from psychologists and relationship experts explain to users how to date safely online, including advice on protecting personal information and spotting fake profiles. Users have the option to report or block any profiles that exhibit suspicious or inappropriate behavior. It helps maintain the integrity of the dating environment. 
In conclusion, SilverSingles takes a proactive approach to ensuring the safety and privacy of its users. They provide tools and resources to help users protect themselves and maintain a secure environment. However, it's always important for individuals to take personal responsibility for their safety and privacy when using any online platform.
SilverSingles

vs.

Zoosk
| SilverSingles | Zoosk |
| --- | --- |
| Tailored for singles aged 50 and above seeking serious relationships | A broad range of singles of all ages, catering to online romance and serious relationships |
| Detailed personality test during sign-up | Quick and simple sign-up process with the option of filling in additional details later |
| Daily match suggestions based on a personality test and preference settings | A Behavioral Matchmaking engine learns from the user's actions to offer perfect matches |
| SSL encryption, privacy settings, and the option to report/block profiles to protect members | Photo verification and the option to report/block profiles protect users from fraudsters |
| Free members can send smiles | Free users can send hearts and smiles |
Editor's conclusion
David Krant
Dating Expert
Undoubtedly, the concept of Silver Singles is its major advantage. The site works great for people in their 50s, 60s, and 70s looking for a good partner.

It's designed for those who know exactly what they are looking for, their priorities, and expectations and suggests matches based on their preferences.

It's not the site where people are seeking some fun and casual flirting—it's a place where people are seeking mature love.
Top SilverSingles competitors and alternatives
This platform has a bunch of alternatives for the 50+ age group with some interesting features. Check out these dating sites for people looking for online communication or a serious relationship.
Video: Silver Singles Review – Over-50 Dating App
FAQ
Is SilverSingles a free dating site?
No, SilverSingles can hardly be considered a free dating site. Non-paying users can take a personality test, use matchmaking services, access profiles and send free smiles, but access to all photos, mobile apps, and features like messaging is granted only to Premium users.
How do I sign up for Silver Singles?
You need to go to the official website, provide some basic details like email address and age, and then move on to a personality test. At this stage, you'll need to answer over a hundred of questions—it's necessary to make the site's algorithms work. The entire process takes around half an hour, but registration is free for all users.
Is SilverSingles a safe dating site to use?
Yes, SilverSingles is a safe dating site. All the data is encrypted, and the company doesn't have the right to sell or share it with third parties. Besides, access to profiles is restricted, and only safe payment methods are offered.
What are some common criticisms that show up in SilverSingles reviews?
There have been some Silversingles.com complaints or criticisms. Some users feel the site's free features are limited, as it requires a paid membership to engage and communicate with users fully. Besides, the complete profile setup, which includes a detailed personality test, can be time-consuming for some users.
How effective is SilverSingles in finding compatible matches?
SilverSingles has a reputation for effectively finding compatible matches, especially for individuals aged 50 and above looking for serious relationships. This effectiveness is attributed to its comprehensive approach to matchmaking, including detailed personality quizzes and daily match features.